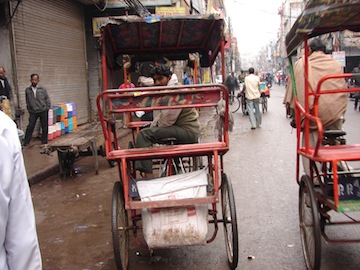 The migration of large numbers of people from rural to urban areas has caused the unplanned and explosive growth of cities in India. While many blame migrants for the overcrowded nature of cities, a critical examination of the living conditions of migrants shows that this blame is misguided. Most migrants in Indian cities live in dire poverty, with a lack of adequate housing, clean drinking water, and medical facilities. These very migrants often become victims of the wrath of government agencies, municipal bodies and the police. A significant number of migrant workers in Delhi, India's capital, depend on cycle rickshaw pulling to support their families back in their villages. Many of these migrant workers take up rickshaw pulling as a quick way to earn some money while they are in the city. This article is an effort to unravel some of the issues and challenges the rickshaw pullers confront on a day-to-day basis while doing an unglamorous job to sustain themselves.
The Situation of Migrants in Delhi
During the last few decades, India's capital city of Delhi has been witnessing unprecedented urban growth and a huge influx of migrants, especially from the rural areas of adjoining states. A comparative study of the census reports of 1991 and 2001 shows an increase of more than 40 percent in migration to Delhi during that ten-year period. As per the 1991 report, the total migrant population of Delhi was 1.54 million, and by the year 2011 the figure had shot to 2.17 million.
A vast majority of these migrant workers get absorbed into various unorganized sectors and work as housemaids, sweepers, drivers, hawkers, roadside vendors, auto rickshaw drivers and so on. Thousands of male migrant workers join the cycle rickshaw industry as pullers, mechanics or workers in various ancillary units that support the cycle rickshaw industry. An estimated 2 million cycle rickshaws ply the roads in India. The exact number may be far greater as there are no reliable records available, but the cycle rickshaw industry provides instant employment to unskilled migrants in urban and semi-urban areas.
Rickshaw Pullers in Delhi
A study conducted by the Jan Parivahan Panchayat ("People's Transport Council," a working group of Lokayan, a movement for development alternatives) revealed that about 90 percent of Delhi's rickshaw pullers come from the state immediately east of Delhi (Uttar Pradesh) and the state immediately east of that (Bihar). The study further pointed out that most rickshaw pullers in Delhi are seasonal migrants who take up rickshaw pulling for few months and return to their native villages during the peak agricultural season. More than 64 percent of rickshaw pullers stay in Delhi for less than a year, while around 27 percent stay throughout the year. The study further found that rickshaw pulling provided a quick source of livelihood for seasonal migrants from impoverished villages and generated vast employment opportunities not only to the pullers but also to the rickshaw mechanics and others in the small-scale industries that produce rickshaw parts.
Indispensable Mode of Transport
The non-polluting and environment-friendly cycle rickshaw, as one of the cheapest modes of intra-city transport, plays a pivotal role in providing point-to-point connectivity, helping people reach nearby markets, railway stations, and bus terminals, and allowing them to commute short distances in narrow lanes where cars and auto rickshaws cannot easily travel. The neighborhood rickshaw puller often provides door-to-door transport services for children in nursery schools. In crowded markets, they serve as a convenient mode of transport in ferrying goods to nearby areas. Rickshaws are also used for garbage collection. Lately, cycle rickshaws have become an indispensable feeder service for the Metro and bus stations, and can be found queued up outside many Metro stations in Delhi. For hundreds of homeless rickshaw pullers, by night their cycle rickshaws get transformed into makeshift beds.
Rickshaw Pullers and the Municipal Corporation of Delhi (MCD)
The cycle rickshaw was introduced in Delhi in 1940 and soon became very popular as a cheap mode of public transportation. By 1975, the number of licensed cycle rickshaws in Delhi swelled to 20,000 and by the year 2006 their numbers had multiplied to several hundred thousand. As of now, an estimated 600,000 cycle rickshaws ply the roads of Delhi and provide direct employment opportunities to more than a million migrant workers.
Right from the beginning, to control their growth, the Municipal Corporation of Delhi (MCD, the local governing body) created rules and regulations and granted city permits for cycle rickshaws in Delhi. From time to time, the MCD fixed a cap on the maximum number of licensed rickshaws in the city. The initial cap on cycle rickshaws, put in place in 1960, was 750. From time to time, the cap was arbitrarily revised, but it never took into consideration the real needs of the people. Accordingly, in 1975, the MCD increased the number to 20,000. The next revision took place only after 18 years. This time the cap was raised to 50,000, but the actual number of cycle rickshaws on the road was 450,000. After another four years, the MCD raised the cap to 99,000, while an estimated 600,000 cycle rickshaws plied the roads.
Conflicts
In Delhi, the cycle rickshaw has gradually emerged as an indispensable mode of public transport and the cheapest way to commute short distances. Thus, a large number of people still depend on them. In order to control and regulate the rickshaws in Delhi, the MCD often employs the draconian Cycle Rickshaw Bye-Laws of 1960 Act. According to this law, one person is granted one cycle rickshaw license, except widows and handicapped persons, who can avail five license permits. Plying a cycle rickshaw without a proper license is illegal.
The civic agencies and policymakers in Delhi often neglect the much-needed service provided by rickshaw pullers. While planning and implementing their projects, they only look at cycle rickshaws as a nuisance, as slow-moving vehicles that obstruct the smooth and speedy flow of traffic on heavily congested roads. The traffic police and MCD officials frequently harass rickshaw pullers by puncturing rickshaw tires, and confiscating and impounding rickshaws. Because of the unsympathetic attitude of government agencies and the police, the rickshaw pullers often find themselves caught in technically illegal situations while struggling to earn a livelihood.
Many rickshaw pullers and owners complain that MCD officers impound rickshaws without any reason and dismantle the confiscated rickshaw if the owner or puller fails to pay the required fine along with the fees for the storage space in the MCD yard. But in reality, besides paying the required penalty, often the pullers and the owners have to pay a bribe to get their confiscated rickshaws released.
Manushi, a welfare organisation founded by social activist Madhu Kishwar, has been at the forefront of many struggles for the rights of marginalized and vulnerable groups, and has run several campaigns for the rights of the rickshaw pullers in India. Madhu Kishwar points out that singling out cycle rickshaws and creating a cap on licenses through draconian laws is highly discriminatory. She further states that, while the municipal body is adamant about enforcing laws on cycle rickshaws, there are no such quantitative restrictions on the number of licenses that can be issued to motor vehicles owners. The state unnecessarily favors the automobile industry and wishes to wipe out other modes of transport that are cheaper and environmentally friendly. In fact today, Delhi is overcrowded with automobiles, and even narrow lanes and pedestrian pathways are overrun by erratically parked cars and motorbikes.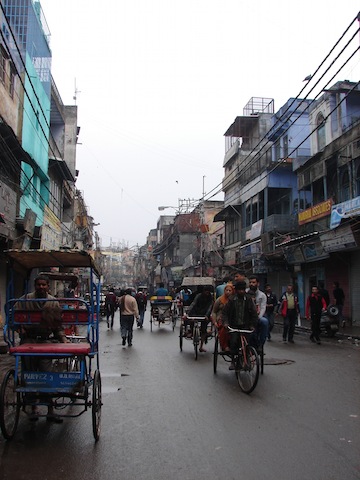 Social Insecurity of Rickshaw Pullers
Rickshaw pullers, due to their status as seasonal migrants, do not receive basic social security in urban areas. Important documents like ration cards or voter identity cards are difficult to procure due to lack of proper identity proofs. The study conducted by Jan Parivahan Panchayat in 2001-2 revealed that around 88 percent of the rickshaw pullers in Delhi do not have ration cards issued by the Government of Delhi, which would entitle them to subsidized grains, cooking oil, sugar and other essential items. More than 90 percent of the rickshaw pullers did not possess voter identity cards and could not enroll their names on the voter list due to lack of evidence of residential and identity proof. The voter identity card, one of the most important identity proofs in India, helps in obtaining various other facilities like a bank account, driver's license, electricity connection, telephone connection and so on. Thus, most rickshaw pullers, deprived of any social security and exploited by the MCD, police and certain sections of society, remain suspended between the poles of "legality" and "illegality." Although they are citizens of India, as migrants in the city of Delhi they are forced to live a suspended and subversive form of life.
Earnings of a Rickshaw Puller
Several studies and surveys have been conducted to find out the income and spending habits of rickshaw pullers in Delhi. Most studies have found that, on average, a rickshaw puller earns between 150 to 300 rupees per day. The average monthly income of a rickshaw puller is between 1200 to 4500 rupees. But the earnings vary from day to day and season to season. Almost 90 percent of the rickshaw pullers rent rickshaws from large rickshaw owners on a daily basis. On average, a rickshaw puller spends about 50 rupees per day on rickshaw rent. The rest of his earnings go towards food and medicine, and in some cases, a big portion of the earnings goes towards alcohol and tobacco. Any remaining money is sent home to be saved.
Most rickshaw pullers cannot afford an accommodation in Delhi as the rents are quite high in most parts of the city. Many rickshaw pullers sleep on the pavements and the footpaths, under flyovers and bridges. Those who live in rented accommodation spend a considerable amount of their earning on paying rent.
Rickshaw Puller Unions and Litigations
Unions like the All Delhi Cycle Rickshaw Operators Union, Federation of Rickshaw Pullers of India (FoRPI), Rajdhani Cycle Rickshaw Pullers Union, and many small rickshaw pullers unions associated with major trade unions and NGOs have been organizing rickshaw pullers in an effort to bring them under an umbrella union that would facilitate and advocate the rickshaw pullers' right to livelihood and recognition for their role in society. Unions have been trying to coordinate between city planners, policymakers, police, and the municipal bodies to get rickshaw pullers proper identification and social securities. Unions and NGOs have also been working towards providing help lines and basic necessities such as night shelters, warm clothes in the winter, parking rights and medical support in case of accidents or serious illness. Alcoholism and drug use are also common among rickshaw pullers. Several civil society groups are also working to create awareness among pullers about the ill effects of alcoholism and drug abuse. Providing financial and social security to all rickshaw pullers has been another priority of unions.
Several unions have filed litigation against the unjust regulations of the MCD. Way back in 1987, the All Delhi Cycle Rickshaw Operators Union filed a petition in the Delhi High Court challenging the MCDs Bye-Laws, arguing that they were opposed to Article 19(1)(g) of the Constitution of India, which guarantees the right for a citizen to practice any profession, or to carry on any occupation, trade or business.
In another case filed by Manushi, the Delhi High Court passed a judgment in favor of the rickshaw pullers. The court argued that putting a cap on cycle rickshaws alone in Delhi is unjust. The MCD's Act directly denied rickshaw pullers the right to do decent work, earn a livelihood and live with dignity. The court further argued that constitutional rights should be interpreted in context and took serious note of the pathetic conditions in which the city's migrants lived. The Court further questioned the MCD on its motive in bringing out such controversial rules.
Climate Change and Cycle Rickshaw
Over the last several decades, the city of Delhi has been experiencing an automobile revolution and an exponential increase of privately owned cars. Thousands of newly registered private vehicles are added daily on Delhi's already-congested roads, causing traffic jams that last for hours. As a result, problems of mobility, congestion, and ever-increasing air pollution have all becomes issues of serious concern. In this context, the cycle rickshaw – as a non-polluting vehicle ideally suited for commuting short distances – should be adapted quickly as a sustainable model in public transportation. A study conducted by the Institute for Transportation and Development Policy has pointed out that if all the rickshaws were removed from Delhi's roads, the air pollution would increase dramatically. Thus, cycle rickshaws should be seen as an environment friendly vehicle in the era of climate change, where alternatives to fossil fuel-based transportation is the need of the hour.
Conclusion
Compared to privately-owned cars, which take up more road space and are very expensive to maintain, a cycle rickshaw takes up very little road space and can ferry many passengers throughout the day. Since a cycle rickshaw involves very low investment, it is often seen as an instant source of employment for the huge migrant population in Delhi. Policymakers by and large have ignored the plight of poor rickshaw pullers by favoring the automobile lobby. The cycle rickshaw industry should be encouraged in the urban areas, along with appropriate policy adaptations and financial support to rickshaw pullers. In addition to providing the cheapest mode of public transportation, the cycle rickshaw industry helps reduce unemployment in a city with a large population of unskilled migrants.